Participatory Science Opportunities
Participatory science is a wonderful way you can help scientists learn new things, even about wetlands, in your area. Participatory science projects allow you to:
get involved with science on local, state, national, and international levels
participate as an individual, class, group, or community
receive training on data collection methods as part of the study
find projects that fit your interests, skill level, and time availability
directly and indirectly help North Carolina wetlands and other habitats, animals and plants
Below is a list of many, but not all, participatory science projects that can use your help. Some of the project pages allow you to submit data and others also have the collected data available for you to see. Here we provide links (click on the logos) to projects with connections to wetlands and/or North Carolina. Note: We do not have personal experience with these projects, and we have not examined any data presented on these sites.
Find a science adventure below and enjoy being a participating scientist!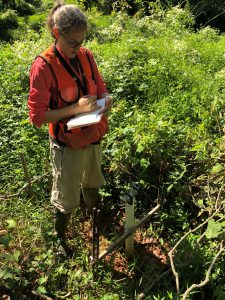 North Carolina Participatory / Citizen Science Opportunities
Other Participatory / Citizen Science Opportunities